LOCATION: NYC, NY / AUSTIN, TX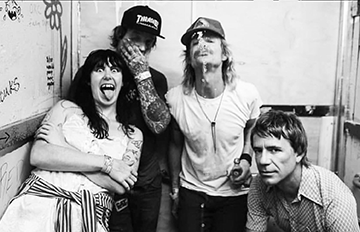 ABOUT SURFBORT:
Surfbort play a female-fronted mix of alternative, punk and hardccore from New York by way of Texas! Featuring members of the F*ck Emos and the Motards!
Surfbort is Dani Miller (Vocals), Alex Kilgore and David Head (Guitars) and Sean Powell (Drums). For fans of X, Sonic Youth, X-Ray Spex, Black Flag and Bikini Kill!
---
DWARVES / SURFBORT – SPLIT 7″
•Vinyl / iTunes / Spotify / Apple Music
SURFBORT – FETUS EP
•Compact Disc / Vinyl

---
SURFBORT (THE BAND)
TWO new episodes of Momma Named Me Sherriff (the Adult Swim cartoon show formerly known as Mr. Pickles) TONIGHT on Adult Swim!! New prints by Mr. Pickles Co-Creator Will Carsola available now from Riot Style! Will Carsola "21 Creeps" screen prints created exclusively for Riot Style with original art by Will Carsola ( Mr. Pickles […]
Riot Style "W.R.A.L.F." Riot Skate Team T-Shirts are now shipping and moving out the door FAST! These awesome neon green and black shirts are UV Blacklight reactive! Riot Style Riot Skate Team shirts are available now exclusively from Riot Style in our online store! Tag us on in your posts on instagram @riotstyle when you […]
Today is Skate Shop Day 2021! Did you visit your local skate shop today!? Hit up your local skate shop today in celebration of Skate Shop Day 2021! Every Day Is Skate Shop Day! Support independent skate shops and skater-owned businesses like Riot Style all year long and follow @skateshopday on instagram! View this post […]
Riot Style W.R.A.L.F. Alf-inspired skate team t-shirts are available now in the Riot Style online store at shop.riotstyle.com! UV BLACKLIGHT Riot Style Skate Team W.R.A.L.F. t-shirts are in stock and now shipping! S, XXL low stock! XL currently out of stock but we will be making more soon! W.R.A.L.F. is a Wretched & Repulsive Alien […]
Rest in peace to NYC's finest, hip hop photographer and fashion icon Ricky Powell, aka The Lazy Hustler. Invisible Jazz cigarettes in the air. RIP to a LEGEND and an INSPIRATION. "Homeboy throw in the towel, your girl got dicked by Ricky Powell!" – Car Thief, Beastie Boys 🎶 View this post on Instagram A […]
Rest in Peace to Sylvain Sylvain, a true rock n' roll legend, guitar player for The New York Dolls. Our condolences go out to his friends and loved ones. "RIP to a real Rock n' Roll hebrew, Sylvain Sylvain of The New York Dolls. I Will always remember you recording Dan and Rylan's band at […]
Official Waybad Skate Ghost x Riot Style™️ lapel pins are running low in our online store! Check out these awesome Waybad x Riot Style Skate Ghost™️ Lapel Pins! The first 100 of these exclusive Waybad Skate Ghost lapel pins is limited edition Glow-In-The-Dark white and black enamel! Less than 30 of the glow-in-the-dark pins are […]
Will Carsola – "21 Creeps" signed, limted edition screen prints are available now from Riot Style! Featuring artwork by Will Carsola ( Mr. Pickles / Adult Swim / Liquid Death ). These artist's edition 11 x 14" inch metallic-silver screen prints are printed on black archival paper stock!! The first printing is limited to 100 […]
Will Carsola "21 Creeps" limited artist's edition screen prints are now being hand-signed by artist Will Carsola! If you pre-ordered a screen print from Riot Style they are shipping this week! New orders, these will begin shipping in the next few weeks! Still time to pre-order your print exclusively from Riot Style. Order now in […]
Will Carsola "21 Creeps" limited artist's edition screen prints are hot off the presses and will begin shipping in the next few weeks! Still time to pre-order your print exclusively from Riot Style. Featuring exclusive artwork from artist Will Carsola entitled "21 Creeps"! These high-quality 11 x 14″ screen prints are hand silk-screened with silver-metallic […]