---
LOCATION: Los Angeles / Huntington Beach, CA
ABOUT THE DRIPS
Vintage style Los Angeles area surf-punk rock n' roll super-group featuring Members of The Bronx / Mariachi El Bronx, The Distillers, Los Lobos & Social Distortion! For fans of The Eagles, The Circle Jerks, The Bronx, Pennywise, War Called Peace, Circle One, and Black Flag.
Learn more about The Drips (Band)
---
LOCATION: San Francisco, CA / Chicago, IL
ABOUT THE DWARVES (BAND):
Pop-punk / garage rock from San Francisco by way of Chicago, IL! The most infamously raunchy band on the planet! Featuring Rock Legends Blag Dahlia, He Who Cannot Be Named, The Fresh Prince Of Darkness, Rex Everything (Nick Oliveri) and more! The biggest balls in the business!
Learn more about The Dwarves (Band)
---
LOCATION: VANCOUVER, BC
FOUNDED: 2001

[S.T.R.E.E.T.S. PHOTO BY TIM BARBER]
ABOUT S.T.R.E.E.T.S.:
S.T.R.E.E.T.S. (Skateboarding Totally Rules, Everything Else Totally Sucks) began summer of 2001 after picking themselves up off the floor of their East Vancouver, B.C. house and drinking the last of the beers they decided to start a band dedicated to skateboarding and life. They quickly moved from their basement to headlining local shows. The sound progressed through space and time to a more involved and complex idea. With elements of old school thrash, early 70's metal and skateboard influenced punk rock they quickly sculpted a sound that would become the S.T.R.E.E.T.S. of now. As the energy around the band progressed so did the song writing. Moving from skateboarding to more complex narratives and songscapes, (all the while maintaining the stoke), S.T.R.E.E.T.S. are not just about thrashing and skating but exploring life on the widest spectrum possible.
Learn more about S.T.R.E.E.T.S. (Skateboarding Totally Rules Everything Else Totally Sucks!)
---
LOCATION: NYC, NY / AUSTIN, TX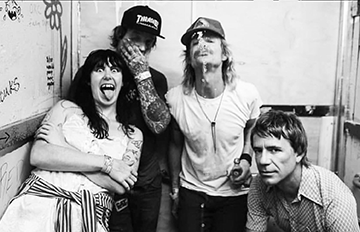 ABOUT SURFBORT:
Female-fronted alternative, punk and hardccore from NYC by way of ATX! Featuring members of the F*ck Emos and the Motards!
Surfbort is Dani Miller (Vocals), Alex Kilgore and David Head (Guitars) and Sean Powell (Drums). For fans of X, Sonic Youth, X-Ray Spex, Black Flag and Bikini Kill!
Learn more about Surfbort (The Band)

---
LOCATION: Richmond, VA
ABOUT VCR:
Call it electro-clash or call it dance-punk, call it new wave, call it vapor wave, or call it what we call it "FUNCORE!" It's VCR! Five piece art-punk greats from Richmond, Virginia, VCR have written some of the smartest, funnest, most danceable synth pop tunes you will ever hear, infused with an art-punk spirit.
Learn more about VCR (The Band)

---
LOCATION: San Francisco, CA / Chicago, IL
ABOUT NICK BLAG DAHLIA:
Blag Dahlia is the legendary singer of The Dwarves, Ear Lee Grace and Penetration Moon as well. Blag also does some electric style acoustic hip-hop and comedy songwriting as a part of his solo stand-up act.
Learn more about Blag Dahlia (Solo)
---
LOCATION: Palm Desert, CA

[NICK OLIVERI PHOTO BY JESSY LOTTI]
ABOUT NICK OLIVERI:
Nick Oliveri is the legendary bass guitar master behind rock n' roll legends Kyuss, The Dwarves, Queens of the Stone Age and Mondo Generator!
---
LOCATION: Northern California / At Large
ABOUT HE WHO CANNOT BE NAMED:
He-who-cannot-be-named is the legendary masked guitarist of rock n' roll stalwarts The Dwarves!
Learn more about He Who Cannot Be Named
---