SONIC BUNGHOLE T-SHIRTS AND PINS! RUSSELL TAYSOM X RIOT STYLE
RIOT STYLE x RUSSELL TAYSOM Beavis & Butthead / Sonic Youth – Inspired "Sonic Bunghole" T-shirts & lapel pins exclusively from Riot Style! Part of our "Riot Artists" series! Pre-order now! Shipping in September 2020!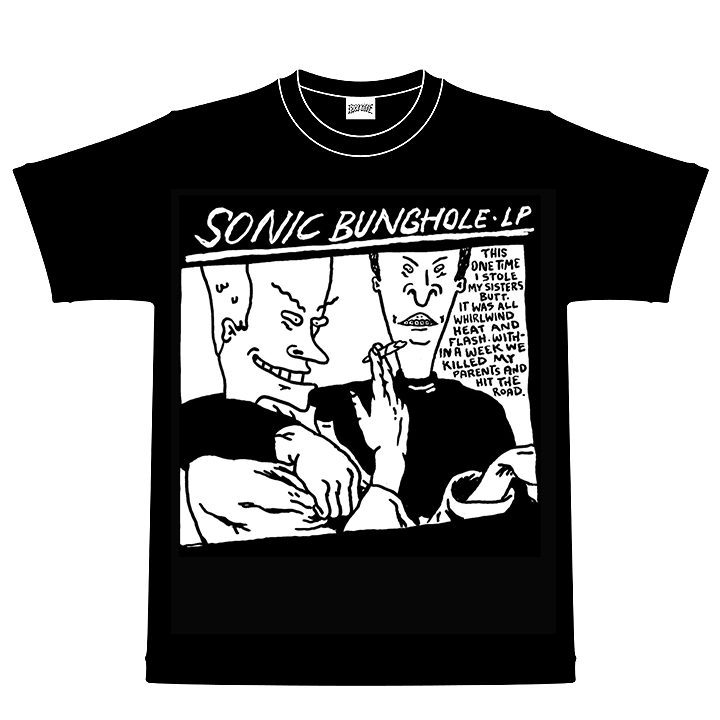 Riot Style Sonic Bunghole T-Shirts x Russell Taysom (Black)
Limited timed presale starts now in the Official Riot Style™ Online Shop! Shipping this September!!! Part of the Riot Style FALL 2020 clothing and merch drop!
>> RIOT STYLE X RUSSELL TAYSOM SONIC BUNGHOLE T-SHIRT FEAT. SONIC YOUTH / BEAVIS & BUTTHEAD INSPIRED ARTWORK
>> RIOT STYLE X RUSSELL TAYSOM SONIC BUNGHOLE LAPEL PINS FEAT. SONIC YOUTH / BEAVIS & BUTTHEAD INSPIRED ARTWORK